we build the best pools
We Build Your Paradise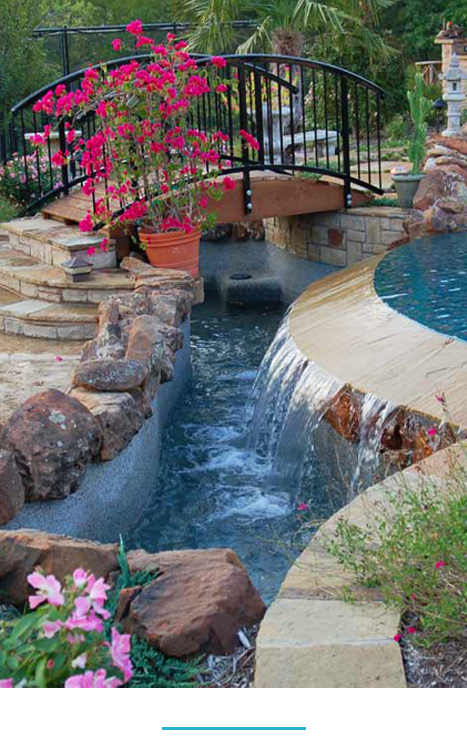 par-a-dise (par' e dis'), n. 1. a state of bliss; 2. a place of delight, happiness or extreme beauty; 3. a custom pool designed by Tahitian Pool.
Tahitian Pools proudly provides award-winning customer service and design. While others in the Dallas / Ft. Worth Metroplex may also specialize in Custom Pools and Spas, Tahitian Pools will continue to care for your paradise long after construction is complete. We also stand out for our Unique Features in and around your custom pool. Owner Jim Przelicki has been personally working one-on-one with clients since 1986 and will promise the same first-class treatment for you.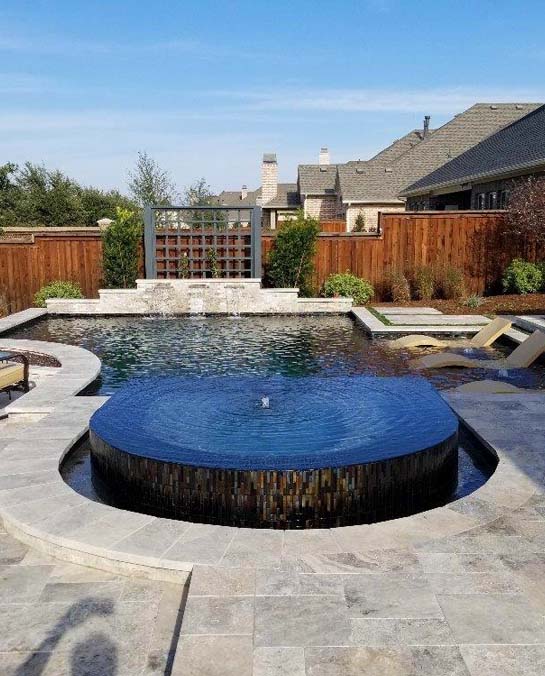 Every yard is a new canvas. And we stand firmly behind what we put into the ground.
Today's possibilities are limitless. Tahitian Pools can work with any space, any existing equipment, and any wish list to make your pool and outdoor living dreams a reality. We will consider your budget and provide the latest in technology so your pool will last for years to come.
Our award-winning services are what allow Tahitian Pools to proudly stand ahead of the competition. In addition to designing and cleaning your pool, Tahitian Pools specializes in a variety of landscaping projects that will transform your outdoor space into your private paradise.
What People Say
I just wanted to let you know what a great job Tahitian did on our pool! You and your staff were extremely professional and successfully over-delivered on our expectations. I felt confident from the beginning that I didn't have to constantly look over my shoulder to make sure that everything was done or that I was getting everything that I needed. I knew that when the job was completed, Tahitian wouldn't miss a thing… and you didn't. We were impressed with the fact that your company wasn't in the business to "crank out" thousands of pools each year in hopes of being the biggest. You seemed sincerely interested in building a few great pools one at a time. As matter of fact, I got quite irritated at one of your competitor's salesmen who spent more time telling me about the "thousands of holes" his company had put into the ground than he did telling me how he would build my pool. I feel strongly that while I could have found someone to do the job cheaper and faster. I would never find anyone who gave a better overall value. Feel free to use us as a reference for anyone considering a pool. And if we ever move and need another pool, yours will be the exclusive name on our list.
As you know, being transferred from Chicago to Dallas was indeed exciting but hectic. We certainly do apologize for giving you just twenty-four hours to get together facts, figures and drawings. You not only accomplished that; you did it all at our convenience. The challenge of building the pool and spa in our yard was a great one. You were presented with a host of problems from the start. But we never worried about them; you took care of every minute detail personally. The permits, fencing, retaining walls, sprinkler system, utility lines, landscaping and on and on; we were never bothered by a single detail. We simply just concentrated on moving. And how did it turn out? SPECTACULAR! BEAUTIFUL! BREATHTAKING! I thought I was proud of our new home until the pool and spa were completed. It is our pride and joy. Everyone who saw the "before" and now sees the "after" is in awe of what you have accomplished. It truly is incredible. We certainly don't miss Chicago anymore! You are a master at what you do. Of all the other contractors we spoke with, I am convinced we picked the top of the line by going with Tahitian Pools you get more than you pay for. We will always be indebted to you for your kindness and quality work. We urge you to bring prospective clients by anytime. Seeing is believing. Thank you and congratulations on a job well done.
Needless to say, I was hesitant to build a pool, but Jim you made this experience one I will never forget. You delivered when promised and the pool is absolutely a dream come true for us. Anyone building a pool should forget all the others. As far as we are concerned there is only one builder in Dallas anyone should consider and that is Tahitian Pools. Thank you again. We will be recommending your company for years to come.